This ultimate game house deserved an outdoor space to keep the party flowing down the lazy river, under the bridge, past the 12-foot tall grotto, and up to the spa side bar. This pool is located in Odessa, Florida. Unique Amenities: Waterfall, Rock Grotto, Slide, Lazy River around Island with fire table, bridge, beach entry, spa with wet and dry bar.
Subscribe to our YouTube Channel

The entire design worked around saving the large oak tree; we shifted the pool footprint over and stayed outside of the canopy and root system. Keeping the slide to code also presented a challenge. We had to keep the natural rocks at least 7 ft above the slide. To do this we worked through many hurdles and had to build a structural pillar and support system for the rocks. Finally, the island presented a challenge to design everything in such a small space; keeping the gas lines, drainage, irrigation, and planters within code. We overcame this challenge by creating separation between the planting areas and drainage with underground retaining walls while using the artificial turf as a surface entrance to our underground drainage plan.
Awards
Best of the Best in the Luxury Pools + Outdoor Living Magazine 2021 Pinnacle Award.
2022 FSPA Design Awards – Gold Award: Pool/Spa Combination 701+ SQFT
2022 FSPA Design Awards – Silver Award: Residential Water Feature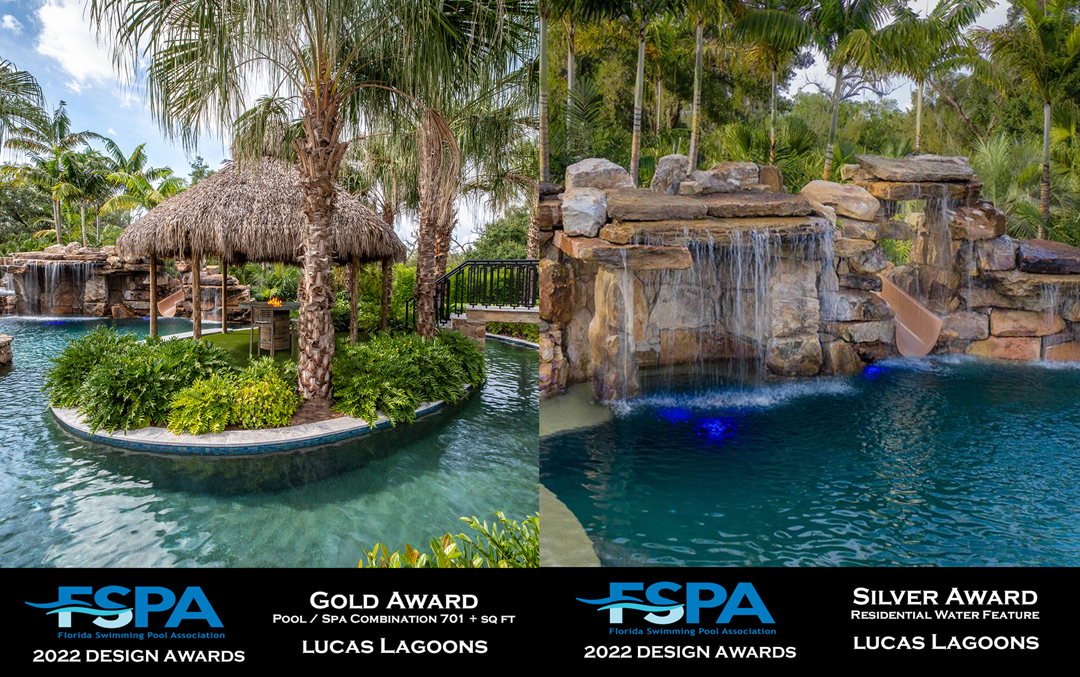 With more than 50 design awards and a team of talented
Tampa pool builders
and designers with more than 100 years of experience combined, Lucas Lagoons is setting the bar high with their unique luxury pools and natural rock lagoons that have captured not only Florida but the world!
So, are YOU ready to discover the backyard magic Lucas Lagoons can create for you?