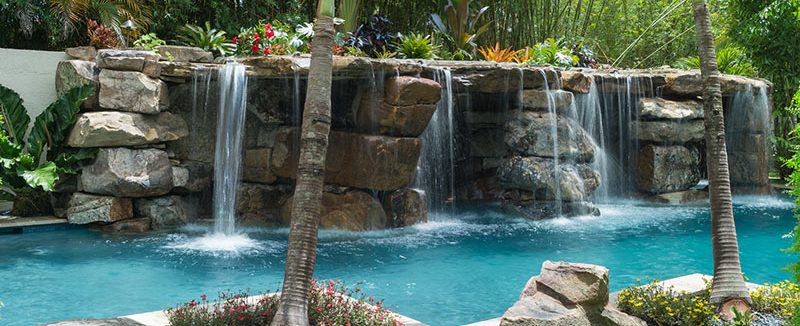 Client Testimonials
---
Dr. & Mrs. Arno Loeffler
Parrish, FL
January 2016
"Phenomenal is one of many words we'd use to describe the final result of our dream turned reality by Lucas. His unique vision was nothing short of spectacular and exceeded all of our expectations. He's a true artist and his palette was our backyard. His construction is top quality and technology is state-of-the-art. After interviewing more than a dozen companies and visiting their job sites, both in-state and out-of-state, Lucas was the ONLY one who actually knew how to PROPERLY construct our dream!!! And Lucas and his team were so easy to work with and accommodating to our needs. I have a strong suspicion this won't be our last Lucas Lagoons creation! Thank you to all!!!
---
Negative Edge Lagoon Swimming Pool
Kelley & Renee Johnson
Palmetto, Florida 34221
Dear Lucas & Barbara,
Do you remember telling us at our first meeting, that your objective when everything was finished was that you wanted us to believe that "we found our beautiful lagoon first and then built our house around it"? Well you not only met those expectations, you exceeded them in so many ways!
We wanted to let you know how very happy we are with our new lagoon. But just as important as the final outcome, we thought it was important to let you know how impressed we have been with the entire experience of building the lagoon.
It started with the very first meeting at our home when the two of you put us at ease and answered the million + questions we had. When we saw your portfolio of the many beautiful lagoons and many awards you have earned along the way, it was obvious we had chosen the right company for our project. You were professionals who had done this before, yet at the same time you were open to the ideas we had also been thinking about. During that first meeting you laid out a detailed schedule of dates and when certain things would happen, claiming the entire project would be complete in two months. At the time we didn't think there was any chance of our renovation being done that quickly, but when you got started everything happened just as you said it would.
Every stage of demolition and construction was on time, just as it was detailed in writing. The sub contractors you used were very professional and worked together better than anything we've ever seen before. Each one was mindful of the others work and tried to schedule their pieces to best take advantage of the time so you could stay on track with the lagoon.
And we can't say enough about the Lucas Lagoons crew – outstanding doesn't begin to describe them! Day in and day out, the work produced by Jane, JP, Amerigo, Chris and Bobby was amazing. We have never seen a group work so hard and so diligently every single day. They worked together as a team when needed and as individuals, depending on what was being done daily. They arrived early and worked until the sun was setting on most days. It was fun getting to know them all and to admire the talents each brought to the project.
It didn't take us long to learn why there was such good cooperation and work ethic amongst the crew and subs… they had to work just as hard as the boss who was on site almost daily! Lucas – you set a tough standard for the others to follow. But like you it was clear to see that not only do they all work hard each day, they enjoy what they do and are very proud of the end results.
It was great not to have any surprises during the project. Everything was done on time and on budget! Even the additions we made during construction were handled quickly and beautifully (the retaining wall and steps are incredible!). If you have future clients who would benefit from seeing our lagoon don't hesitate to bring them by anytime. In addition, we would be pleased to speak with anyone who is considering a Lucas Lagoon for themselves so feel free to use us as references.
We absolutely love our new lagoon and we can't thank you both enough for helping us realize the dream of our own backyard paradise! We wish you continued success and blessings.
Best regards,
Kelley & Renee Johnson
---
Commercial Water Feature
Longboat Key Towers Association
601-603 Longboat Key Road
Longboat Key, Florida 34228
October 24, 2008
Dear Barbara,
The external portion of the massive restoration of our Longboat Key Towers property is complete and is receiving rave reviews. I wanted to take an opportunity to thank you for the great part you and Lucas Congdon played in the beautification of our final product. As you know, the water feature that is the focal point of our landscaping had a number of fits and starts along the way of development. Carman Lowther, LBKT manager, and I had seen numerous installation that Lucas Lagoons had produced and, therefore, fought hard to get our owners to accept Lucas and his ability as an artisan to conceptualize, develop and produce a striking centerpiece for our project. We were successful in that attempt and we are tremendously please with the results. I felt that you, Lucas and Lucas Lagoons were committed to an excellent result. Throughout our long development time, I saw a consistent desire to create a project of unparalleled excellence and my confidence in each of you was duly rewarded with the final product.
Thanks again for you willingness to work professionally in a condominium environment with multiple "chiefs". I hope there will be an opportunity for many others to enjoy you excellent work at our site. If we can help you by talking to others about our experience with you, please let me know.
Best personal regards,
Ross Greene
President
Longboat Key Towers Association
---
Stone Grotto Lagoon Swimming Pool
Triangle Construction Company, Inc.
333 South Pineapple Avenue
Sarasota, FL 34236-7019
October 25, 2006
To Whom It May Concern:
I would like to express my appreciation for the great job that Lucas Lagoons did in designing and building the pool/spa at 3910 Solymar Drive. I was looking for someone who could design something really beautiful and unique to match the quality and design of the three-story luxury home that my company was building. This lot had a specific building pad that limited the area that the pool could be built in as well as a huge oak tree that further impacted the site. The oak tree was a potential problem because I did not want to cage the pool. Lucas solved this problem by designing the pool with three venture skimmers and a leaf vac system. As well as solving the technical aspects, Lucas Congdon's design exceeded all my expectations. His design includes a beautiful waterfall with grotto, an extra large spa covered by stone, and a seating area with a fire pit in the middle. He completed all the work in a timely and workmanlike fashion, and the finished pool/spa always awes prospective clients with its beauty.
Sincerely,
Peter G. Laughlin
President
---
Lagoon Swimming Pool and Spa
October 18, 2007
Dear Lucas Lagoon "Family",
We want to thank ALL of you for making our dream come true. The pictures do not do our pool justice. Every rock laid was a labor of love and pride, and it shows. When friends and family came by, they would sit and watch the process with amazement. Even the plants around the pool were picked and planted in a specific location with love. It has been a pleasure working with you. Please feel free to give our number for references.
Gratefully,
Robin & Virgie Franklin
---
Lagoon Swimming Pool and Elevated Spa
Lisa Loewenstein
Bradenton, Florida
September 2006
It was a blessing to learn of Lucas Lagoons and his artistry. After many attempts with many different pool companies, I discovered Lucas Lagoons. He personally came to my yard in which I described what vision I had and he added some ingenious ideas. Within a short period of time we meet again and he showed me a colored hand drawn picture of my pool, my Lagoon. I was just blown away by what he proposed.
During the building process, Lucas was hands on daily, every step of the way. The time schedule and completion were right on target. It was extraordinary to watch the pile of boulders and truck loans of plants and trees being transformed into a piece of art, my own paradise, my Lagoon.
When it was finished, not only was I blown away, but it was beyond my wildest dreams and expectations.
Lucas and his crew, especially Barbara was always available and still are, to answer any questions.
Since my husband passed away with Leukemia seven years ago, my philosophy in life had changed. It is very simple, I have learned that Every Day Counts. I wanted to surround myself with a beautiful, tranquil and peaceful setting. Lucas was the one who was able to make my vision come true.
Sincerely,
Lisa Loewenstein
---
Swimming Pool Renovation
Jeff Nelson
10612 Old Grove Circle
Bradenton, Florida 34212
941-748-5244
To Whom it May Concern:
We cannot tell you how happy we are with our pool remodel. Lucas took a very ordinary backyard pool and patio and completely transformed it. When we told Lucas that we wanted something to remind us of our vacation in Costa Rica, we never dreamed that Lucas would create something so beautiful that we would feel as if Costa Rica had been moved to Sarasota. The waterfalls, streams, bridge, and landscaping, as well as all the lighting, have truly created a magical place that we love.
We would also like to add that all the crew members of Lucas Lagoons exhibit both a high quality of skill as stone masons and also a most incredible work ethic. So the whole job is not simply beautiful, it is very well constructed. We would recommend Lucas Lagoons to anyone without reservation.
Sincerely,
Jeff
---
New Lagoon Swimming Pool with Pool Slide
October 19, 2008
Dear Lucas,
We want to tell you what a wonderful job you have done transforming our backyard into our own little bit of paradise. The lagoon with the grotto, spa and slide are incredible. Everyone that has seen it has been amazed. And everyone who has been in it has had a great time. Who has to go on vacation to get away from it all when they have a water park in their back yard!
All the best,
Dave & Barb
---
New Lagoon Swimming Pool & Spa
T.L. Hill Construction, LLC
(941) 746-5255
6203 Burrowing Owl Cove
Bradenton, Florida 34202
License #CGC1507489
To whom it may concern:
Lucas Lagoons designed and built a beautifully crafted pool and spa for our home. The design and layout blended magnificently with the rest of the house. The work was preformed in a timely manner. The pool and spa not only met our expectations but exceeded them. We would definitely reuse their service and recommend them to others.
Very Truly Yours,
T.L. Hill
President
---
Lagoon Style Swimming Pool
All,
The experience with our Lucas Lagoon has been a positive one from the beginning. Here is our story.
We went through a pool construction project before with a local pool contractor who has the best reputation in the area. Needless to say, we had numerous problems along the way, and we are still paying for some of those problems. All in all, it turned out to be a negative experience.
Working with Lucas Lagoons has been exactly the opposite, and instead of seeing continuing problems we have seen continued follow up. After all, that's what it is all about. All projects have issues. How they are dealt with and how quickly, defines a company's commitment to excellence. Lucas and Barbara, you have an excellent organization.
The lagoon was done amazingly fast, with no day light hours wasted. When issues came up, they were addressed immediately and resolved. Whenever we needed directions or assistance, phone calls were returned promptly, and visits were made quickly and on time. I must have called Barb's cell phone a hundred times, and her response is excellent when leaving a message, but most often she answers live.
Our lagoon is not quite a year old. We still call every so often with questions or concerns, and we receive equal attention as we did the day we first became customers. We are customers for life, and will gladly be working with Lucas Lagoons on future projects.
Sincerely,
Ed & Carolyn
---
Chadwick's
3219 49th Street
Sarasota, FL 34235
October 16, 2007
Dear Lucas Lagoons,
We wanted to take this opportunity to thank you for the beautiful job you did on our Designer Series pool. From the moment we saw Lucas's work we knew we wouldn't be satisfied with an ordinary pool. We are so glad that we decided to have Lucas Lagoons build our pool.
We really enjoyed the whole experience; from the drawing on paper, to seeing it transformed before our very eyes. We didn't have to wait long to enjoy our new pool since workers were here almost every day until completion. We couldn't believe how fast it was completed. It was a pleasure working with everyone in your company. Everyone who came to work was friendly and professional. You could tell that they really took pride in their work and it was a pleasure getting to know them. Lucas went above and beyond our expectations!
Our Designer Series pool turned out even better than we had imagined and we will enjoy it for years to come! It feels more like we're at a resort then in our backyard. We are truly thankful for the amazing job you did. We would highly recommend you to anyone.
Sincerely,
Keith & Heather
---
New Lagoon Swimming Pool
Triangle Construction Company, Inc.
333 South Pineapple Avenue
Sarasota, FL 34236-7019
October 25, 2006
To Whom It May Concern:
I am happy to take this opportunity to express my appreciation for the great job that Lucas Lagoons did in designing and building the pool/spa at 3916 Solymar Drive. The area for this pool was quite narrow, but I wanted a pool/spa that fit the beauty and quality of the three-story home at we were building. We wanted to make sure that the view of the water and especially the sunset were preserved.
Lucas came up with a unique design in which the spa became the grotto for a beautiful waterfall. He also managed to leave an area in the grotto to allow for the sunset view. He also incorporated landscaping, especially a super curved coconut which juts out over the pool and adds tremendously to the over-all impression of a tropical lagoon.
Sincerely,
Peter G. Laughlin
President
---
Dear Barbara & Lucas,
What a stroke of luck Marianne & I had in finding Lucas Lagoons! We had three other pool companies come out to try and convince us that they could provide the remodel that we were looking for. None of them could. After our first meeting with Lucas, the confidence in his description of what he was going to do was enough to sell me on the job right then and there. Then, once we received the virtual picture of our new pool, we knew that we were dealing with a "professional" company and we couldn't wait to get started.
After the job started, there wasn't a day that someone wasn't there working. Everything went as planned and on schedule. As you know I am in the plumbing remodel business, and I understand how difficult it is to have any remodel job like this turn out with little problems and on time. Your team pulled it off. Everyone was pleasant, courteous and fun to work with. They all spoke highly of you and felt proud to be part of Lucas Lagoons. That is a very rare quality to have in today's contract world and I believe that is the key reason that we got a beautiful and quality end result.
Barbara & Lucas, we are so pleased with our new pool and words cannot describe how beautiful our new "lagoon" is. We used to travel on the weekends to relax at resorts & beaches, now we just step out our back door. Our new lagoon looks better than I could have ever imagined and I really think that you are the only company that could have done a job like this. It was definitely worth the investment in our home and a great experience. I would and do recommend your company to any one wishing the finest in out door living next to a relaxing lagoon.
Sincerely,
Seth Hill
---
Swimming pool Remodel
Jordan and Rookie Shifrin
8116 Lone Tree Glen
Bradenton, FL 34202
August 12, 2007
Gentlemen:
We just wanted to drop you a note to let you know how pleased we are with the work you did on our pool. YOU magically transformed our run-of-the-mill swimming pool and spa into a tropical paradise which is the talk of the neighborhood and the envy of our friends.
Certainly comparable to the beauty and tranquility of our new tropical paradise was the professionalism and conscientiousness of your staff all under the guiding and gentle hand of Barbara Luehring.
What we do not often see in Florida is a contractor who does what he promises, on schedule. What a wonder!
We thank you for your assistance in designing the pool area, and for the artistry and talent which you displayed. Our lanai area now looks like a resort from which we never have to venture out from.
Thanks again,
Best Wishes,
Jordan and Rookie Shifrin
Lucas Lagoons
3629 Egerton Circle
Sarasota, FL 34233
---
Lucas Lagoons created a tropical paradise in our back yard. They were very easy to work with. They came on time, worked when they said they were to be there, and finished the Pool-Jacuzzi in a timely manner. It was a pleasure to work with them.
Lucas Lagoons is very creative in their designs.
Liz and I highly recommend them.
Dave and Liz Yeagers
---
Water Wall Water Feature
Impact Group
Rocky Point Center – Suite 820
3030 N. Rocky Point Drive
Tampa, Florida 33607
P: (813)287-0907
F: (813)282-8158
I am pleased to offer this letter of recommendation to the overwhelming performance satisfaction received as an owner and developer of the recently built Westin Tampa Bay Hotel in Tampa, Florida.
I had the pleasure of working closely with Lucas and Barbara on the Westin project. The 16 story hotel consists of 255 rooms, suites, club lounge, meeting facilities and the Westin Workout with indoor pool. Lucas Lagoons created a unique and impressive water feature at the entrance to the new Westin Hotel at Rocky Point in Tampa, Florida. I know that designing the water-feature was a challenge because we needed something both breathtaking and subtle. They managed to create a design that achieved both objectives.
I also appreciated their business like approach to the project. They knew that the water-wall had to be completed by a certain date and they did everything necessary to make sure that it was completed as promised, while consistently maintaining our high quality standards.
The challenges presented at the Westin Tampa Bay (delays in schedule, modification to the Westin designs during the course of development) proved to be no problem for Lucas Lagoons and they assisted in meeting all our deadlines and help us open the hotel on schedule and within budget in February 2009. The end result is a beautiful resort-like project.
Lucas and Barbara are very team oriented, results driven and creative in their design approach. We at Impact are very grateful for all the hard work and dedication their team has put into this project. We would welcome the opportunity to work with them again in the future.
Should you have any inquiries regarding Lucas Lagoons, I can be contacted at the office at (813)287-0907 or via email at dilipkanji@yahoo.com.
Sincerely,
Dilip Kanji, President – Impact Group
---
Swimming pool Remodel
To: Lucas Lagoons
From: Robert Walsleben
RE: Pool Remodel
Lucas,
Marti and I would like to thank you for the outstanding work by you and your team on our pool remodel. The absolute transformation of that out of date "hole in the ground" to our new tropical paradise has been amazing…and was a pleasure to watch. Beginning with the concept and design stage and ending (on time) with a tremendous attention to detail and quality really sets you apart from your competition. I know how much you enjoy creating these really cool layouts, and the results speak for themselves. As you know, we renovated the entire house and without question, the pool gets all the attention when we have guests! Please send our thanks to the entire team at Lucas Lagoons and feel free to call on us as a reference anytime.
Best Regards,
Robert Walsleben
---
Swimming Pool Remodel & Front Entrance Water Feature
Susan and George Strickland
324 Bayshore Drive
Osprey, Florida 34229
October 26, 2007
To Whom It May Concern:
When we originally built our home, we had some marvelous ideas to capitalize on its unique design. One of our ideas was to incorporate a pond at the entry with a simple foot bridge over it so that one would have to walk over the bridge to enter the house. We spoke to some landscape designers, but none had the creativity or vision to make the dramatic statement we were searching for. Then we met Lucas Congdon of Lucas Lagoons, whose vision and creativity is clearly evident when he first discusses his ideas for a particular space.
Lucas first transformed our existing swimming pool into a magnificent water playground with a rock waterfall and slide that dazzles the senses. We then turned him loose on our front yard where he created rock gardens and a meandering tree lined path which brings you to the pond, complete with a simple foot bridge, bubbling urns and lighted palm trees. The driveway and walkways, done in beautiful travertine bricks, complete the dramatic effect. Lucas pays particular attention to how the homeowners will actually live with the design. In our case, we can open the windows in the dining room and listen to the water bubbling from the urns.
On the job site, the crew from Lucas Lagoons worked diligently to complete our front yard transformation in a timely fashion, understanding the inconvenience of having limited access to the front door during part of the project. The courteous and professional staff kept us informed of progress, advising us of when certain subcontractors would be on the job site, and Lucas would always be available to discuss new ideas as progress was made.
The result is a dramatic front yard and entryway to our home, which is lovely in the daytime and magnificent at night. A photograph of our pond and entry graced the cover of the March/April 2007 issue of House Trends magazine. I believe it was one of their most well received issues. Lucas is a gifted designer who has put together a fine team of professionals. We were delighted to work with them.
Sincerely,
Susan Strickland
---
Swimming Pool Remodel
Beachem Brothers Electric, Inc
921 North Lime Avenue
Sarasota, Florida
October 31, 2006
2006 RE: Lucas Lagoons pool Remodel – The Inlets Beauchamp Residence
To Whom It May Concern: In January of this year we contracted Lucas Lagoons to remodel our pool patio. This task required a multitude of varied skills from building the waterfall, landscaping the area with a lovely tropical ambiance to screening the pool and patio area. The biggest challenge was the installation of the stone flooring which required lots of skill in cutting the stone and then making it fit like a perfect puzzle, and the craftsmanship was outstanding. We have been very pleased with this company and they did a beautiful job. We would recommend this company to anyone at any time. The workers and subcontractors that work for Lucas Lagoon have done a superb job. The end result is a magnificent living space reminiscent of paradise fondly enjoyed by family and friends. We have never enjoyed our pool area as much as we do now!
Sincerely,
Bill & Stefanie Beauchamp
---
Swimming Pool Remodel
March 19, 2009
Hello Barbara,
I just wanted to drop you a line to tell you and Lucas how much we love our new back yard oasis. We have entertained several local guests as well as folks from out of state and they can't get over how beautiful our pool is. We get the same comment from just about every visitor "Your pool belongs in a resort in Hawaii". Your team designed and constructed our pool area with pride and professionalism down to the smallest of detail from the travertine flooring to the tiniest of plantings. Lucas Lagoons took our dream and made it a reality. The investment was worth every penny. We have recommended your company to all of our friends including some from out of state.
Jeff Smith
President
R.E. Crawford Construction
---
Natural Lagoon Swimming Pool
Dan & Karen Leonetti
8121 Midnight Pass Road
Sarasota, Florida 34342
941-349-7536
Dear future Lagoon Owners:
This letter is of appreciation for Lucas Lagoons.
Our specific dream of a "Healthy Swimming Lagoon" came true when we met Lucas Congdon & Barbara Luehring in the summer of 2003.
Being chemically sensitive, it was very important that we search out and find a special product and installation for our swimming needs. Upon hearing the creative ideas that Lucas had designed in his brilliant mind, we knew we had found our special swimming lagoon system. The sand bottom is such an organic feeling on our toes that we enjoy on a daily basis. The ion system leaves our skin smooth and energized.
Barbara & Lucas superseded our expectations in many ways:
Completion done by promised date (very unique)
Breathtaking layout & design
Quality installation
Courteous & thorough communications
One of a kind swimming lagoon, created solely for each individual homeowner
All of this rolled into ONE quality organization.
We are so pleased & thankful that we chose Lucas Lagoons to build our dream come true swimming lagoon.
Enjoying our Lagoon – In – Paradise,
Karen & Danny Leonetti
South Siesta Key
---
Lagoon Swimming Pool
October 2, 2007
Dear Lucas and Barbara:
When we contacted you in regards to putting a "little piece of Hawaii" in our backyard, little did we know that Lucas Lagoons could exceed any expectation we could have ever imagined. We want to express our sincerest appreciation to the both of you as well as your entire crew for creating such a masterpiece that is the focal point of our home. From our very first meeting when you came to our new home to discuss our aspirations to the finishing touches, we have been truly amazed by the quality of craftsmanship, attention to detail, and follow-up ensuring our complete satisfaction. Our family, friends and neighbors are in complete amazement of our lagoon, with the only drawback being having more people knock on our door asking if they can show off our lagoon to friends.
When you first showed us our virtual lagoon in the planning stages, I remember saying "If you can make our back yard look like that, let's get started". The way you incorporated our property detail including what the views would look like is something we never expected. No paper drawings as with other "pool builders" (who we hate to even compare you to them as you are in a league of your own). In our opinion, your entire team took a genuine interest in constructing the most awesome work of art ever created. It was very comforting seeing the same crew come every day and treat our home as their. To say all of you treated us like family would be an understatement, and I hope you felt the same for us in return. Lucas, your artistic ability is amazing. To be able to create symmetry with 2 ton boulders and at the same time make it so pleasing to look at is uncanny. Not to mention your propensity to direct traffic while driving the bulldozer with the massive boulders about to be place. Barbara, your dedication to total customer service is something we have new experienced until now. You had our budget in mind which is probably close to an impossible task given the scope of this type of project. Your ability to manage the entire project from start to finish, our finances, and holding your suppliers accountable to Lucas Lagoon's extremely high standards is equally commendable. We have never had a contractor be as responsive as you have been. Even after the project is complete, you still respond immediately and have someone out the same or next day. For that we continue to be appreciative.
This Lucas Lagoon that we are proud to call our own is almost like a wedding cake that looks too good to eat, or a car that is too nice to drive, it looks too good to swim in but then you can't help yourself and just have to jump in and enjoy it as the landscape from inside is just as beautiful as in is standing alongside of it. We thank you again for you dedications to our paradise, our little piece of Hawaii, and turning our dreams into reality.
Aloha and Mahalo from the "Lost Lagoon"
Austin & Barbara
---
October 17, 2008
Dear Lucas and Barbara,
Just a note of appreciation, one year after completion of our beautiful little lagoon.
We didn't have much room, but you managed to place the pool gracefully, maintaining that important long lake view while giving us our privacy on a small lot. The weather wasn't exactly cooperative either, with temperatures in the 90s and rain almost every day during critical phases of construction. But the workers soldiered on, and the project was done exactly on time.
The colorful tropical vegetation has grown up, softening the edges of the warm Tennessee sandstone waterfalls, and the plant all bloom consistently. They clearly like the fact that there is no chlorine gas in the air, and so do we.
It was entertaining to watch the pool take shape, and each team, from the Brazilian travertine workers to the landscape crew, demonstrated impressive skills. And then there's Lucas…an artist in stone.
We are now the envy of the neighborhood and can entertain and relax in style. Thanks for all your work.
Sincerely,
Beatrice & Thomas Gering
---
Swimming Pool Remodel
Dear Barbara Luehring of (Lucas Lagoons),
When people come to our house they tell us it feels and looks like a "Disney Resort Hotel" thanks to your creativity and ability to transform our pool and backyard into a true paradise. People never want to leave because you have made it so peaceful and beautiful. The best money I have ever spent on my house is what you created for our waterfall and landscape. Thank you for making dreams come true and then some.
Sincerely,
Don Power and Family
---
Stone Spa
September 7, 2006
To Whom it May Concern:
Lucas Congdon designed and Lucas Lagoons build an absolutely beautiful spa and waterfall in our front courtyard. We wanted something in the courtyard, but thought that because of difficult access that we would be very limited in what we could have. We were wrong.
The work was done in a very professional manner, and they completed the job in a very short time. Once the crew started working they did not miss a day until the job was complete. The results speak for themselves. The spa and waterfall are utilitarian – we use it every day, and its more beautiful than we ever imagined-everyone who sees it is amazed that something that stunning could be built in this small area.
In short, Lucas Lagoons delivered more than they promised and we could not be happier with their work. We would recommend them whole heartedly.
Sincerely,
Michael Cohen
---
Mike and Mary Jackson
4712 Halyard Dr.
Bradenton, FL 34208
August 28, 2006
Dear Lucas Lagoons,
Mary & I wanted to let you know how absolutely delighted we are with the results of our pool/lanai make over. We have spent countless hours enjoying the waterfall, planters and new sandstone flooring. It seems that each time we look at the "lagoon", we comment on what a great job you guys did. Oh, and the comments from our visitors!! We continually hear things like "your own private sanctuary", "a little piece of the Blue Ridge Mountains here in you back yard", "looks like a resort area, a top class hotel's pool", and the list goes on. It amazes us that after you added so much stone and new flooring to the area it seems larger than before. We have been asked on several occasions if we enlarged our lanai area!! You guys are truly "artists" in you own right!!
We also wanted to thank you for your professionalism throughout the duration of the project. Every aspect, from the sale to the final clean up, was handled with great detail and respect for our property. We so appreciated being kept up to date on the progress, procedure and expectations. Your entire crew is to be commended for an outstanding job.
There is no doubt that the project's results has added far more to our property value than our investment. You far exceeded our expectations. Thank you for a job well done and for a wonderful addition to our lives!!
Best Wishes,
Mike & Mary
---
Mr. and Mrs. David L. Reichle
416 81st Street West
Bradenton, Florida 34209-3268
October 17, 2008
Barb and Lucas:
We are both thrilled with our new water feature. It has added a new dimension to our home and a wonderful spot for gathering and entertaining. Everyone who sees it is awestruck.
You completed the job on schedule and very professionally – believe me – we really appreciate that. We are looking forward to the next project with you. See you soon.
Thank you,
Brenda Reichle
Dave Reichle
---
Architectural Swimming Pool
October 28, 2008
To Whom It May Concern,
It has been a sincere pleasure working with Lucas Lagoons and his team of professionals on our custom pool. During this process, Lucas and his team have proven to be absolutely reliable and capable of maintaining first class work and exceptional service. Lucas is a consummate professional delivering creativity, quality and visually interesting designs and colors resulting in a comfortable and sophisticated environment. The results were far better than we imagined, creating a warm and inviting oasis.
Lucas is very easy to work with and was able to make the process quite enjoyable. His attention to every detail and creative flair, combined with an excellent work ethic make working with him a wonderful experience. He was able to capture our vision perfectly and brought it to life in a way that is artistically appealing and at the same time "very cool".
Lucas is passionate about his work and it shows in the dramatic results. He is a good listener, researcher, honest, ethical and timely. We believe he can make a substantial contribution to anyone requiring superior results. We highly recommend Lucas Lagoons.
George and Bette Tomaszewicz
Longboat Key, FL
---
Triangle Construction Company, Inc.
333 South Pineapple Avenue
Sarasota, FL 34236-7019
October 25, 2006
To Whom It May Concern:
I want to take a moment to thank you for the great job that Lucas Lagoons did in designing and building the pool/spa at 3935 North Shell Road. This site was extremely challenging because the area for the pool was only 10' at most points, and bordered a protected mangrove area. In spite of the small area available, I was looking for a design that was in keeping with the spectacular three story home overlooking the gulf that I built on this lot.
Lucas came through with a beautiful design that includes a rock-covered spa at one end that also serves as a waterfall with a grotto waterfall at the opposite end, which blends beautifully with the mangrove background. The waterfall looks as if it has always been there.
When I bring prospective clients to view the luxury home they are always impressed by the beauty of the pool. Lucas actually transformed a potential liability – very small pool – into a beautiful asset.
Sincerely,
Peter G Laughlin
President
---