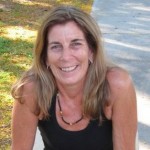 Jane "Woman" Werley
Master Stonemason
Jane is Lucas's mom and a master stonemason in her own right. She moved from Vermont to Sarasota to work with Lucas when he started Lucas Lagoons. Jane may be the oldest member of the crew and a "woman" to boot, but she can lay stone circles around even the most capable stonemasons.
Chris "Crash" Warren
Chris earned his nickname the hard way. He's crashed just about everything that has wheels. He just can't resist "muddin'" on the weekends. During the week, he is incredibly hard working, can operate any piece of equipment, and really knows lagoon pool construction inside and out. If something needs doing, Chris can and will do it.
John "Old Man" Messner
John has been a stonemason forever and proves that "slow and steady wins the race." He is never in a rush. As a matter of fact, he cannot be rushed. But he gets the job done, and done right.
Matt "Sunshine" Schuler
Matt is a relatively new member of the Lucas Lagoons crew.  Once you see him smile, you'll understand the nickname. Also known as "Mud Man", Matt is willing to do any job and has become an integral part of the team.