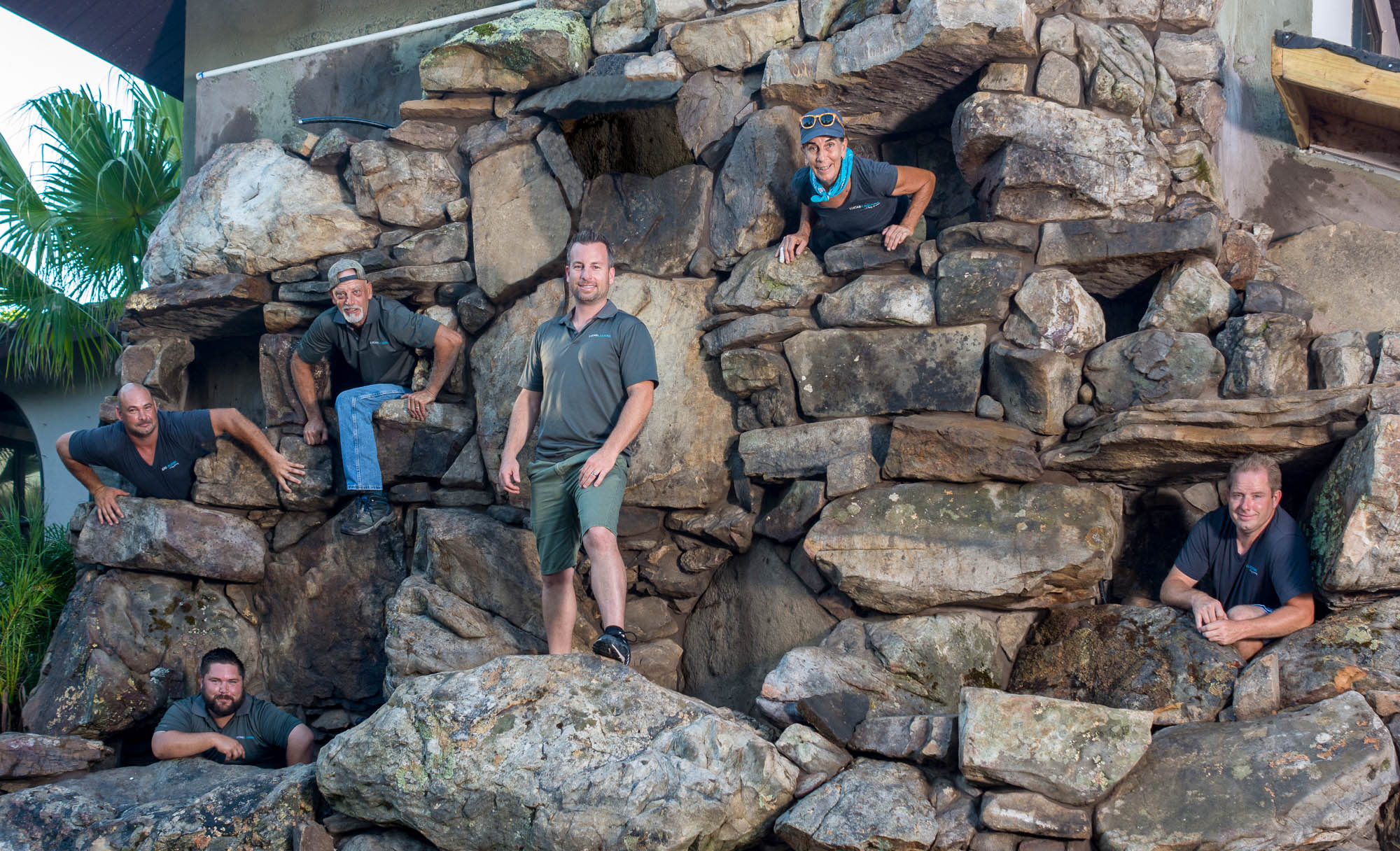 About Lucas Lagoons
A big hello and welcome from Lucas and the crew! By now you have probably seen at least one episode of our hit build show, Insane Pools: Off the Deep End. If you haven't yet, then you should check it out! What we want our clients and potential clients to learn is more about who we are as a company and as a builder beyond what the show portrays. And most importantly, we want to inform and educate our clients and potential clients about why we are different from the standard pool builder, why we are priced at the top of the market, and why we feel that is what sets us apart and makes our company worth the extra cost.
In 2003, Lucas Congdon stumbled upon an untapped market. He took his love and expertise of stone masonry and landscaping and combined them into a unique and niche concept for pools that he has since perfected. Countless people have "standard" swimming pools, and countless people go in search of the "perfect" swimming pool. But Lucas Lagoons really takes that perfect pool to the extreme notch. Giving clients the ability to think outside the "standard" pool box and to really tap into their pool imaginations, he allows for people to attain pools that very few pool builders can create. And because of this unique and creative way of thinking, a lagoon artist was born. Fast forward to the present, and here we are four seasons into our pool build show and hundreds of lagoon dreams made possible by the mastermind, Lucas Congdon.
So why is it that we are priced at the top of the market? And could a client find a builder that could give solid promises of building a comparison product to a Lucas Lagoon for a margin of our cost? It's not like comparing apples to apples. Most standard pool building requirements only take into consideration what a typical pool would entail. They don't take into consideration the immense stress weight a pile of rocks could add to a pool shell and deck, or finishes that don't last the test of time. At Lucas Lagoons, we like to think from a higher-end perspective. Our pool shells are built stronger, with more extensive engineering than what is required for standard pools. Our waterfalls must be constructed to hold the weight of themselves, and they must be put on a solid foundation. They must withstand years of weathering and shifting. So in a sense, they are over-engineered to make sure they are safe and solid. And Lucas Lagoons prides itself on being a full-service builder. Where we put all of the costs upfront, including landscaping, lighting, sound systems, waterslides, irrigation, additional structures, outdoor kitchens, etc. We don't exclude those things from the initial estimate to avoid surprise expenses for the clients later in the build. It is the clients choice on what finishes or features they want to include on the final scope. Of course, there will always be another pool builder who can undercut the prices, not include all costs upfront, skimp on engineering and structural strength, and slip lower-end finishes under the radar to cut costs. But then what are you really saving? And does that pool become superior, or "standard"?
Know that when you come to us for your pool project, we will go above and beyond to make sure the money you invest is going to be making every aspect of the pool complimentary to what you envision. We will offer better options for finishes and details but work with your budget and preferences to make a design and cost that you will feel good about at the end of it. But also know, that we don't build the "standard" style pool. And often we encourage those in the research stage to get prices from other builders based on what they imagine for their pool. Education and research are the best insurances when you are investing a lot into something that you expect to love.
So if and when you are ready and confident to proceed with us, then we will ease you into the Lucas Lagoon project process and will be there to answer questions through every stage. Thank you for choosing us!