Transform Your Backyard Into Your DREAM Oasis From Award-Winning Sarasota County Pool Builder Lucas Lagoons!
With more than 50 design awards and a team of talented Florida pool installers and designers who possess over 100 years of combined experience, Lucas Lagoons is setting the bar high with their unique luxury pools and natural rock lagoons that have captivated not only Florida, but the world!
Ready For The Custom Pool Of Your Dreams?
Imagine Having A Backyard That Makes Every Day Feel Like You're On Vacation…
Sounds pretty amazing, right? At Lucas Lagoons, transforming backyards into a total paradise and creating mesmerizing custom pools is simply part of the job for our passionate team of Florida pool designers!
Clients love our pools and backyard transformations because they create a jaw dropping environment of recreation and relaxation that is 100% customized and unique to every client! In fact, it's not uncommon for the first words out of a client's mouth to be…
"I never dreamed it would be this beautiful!"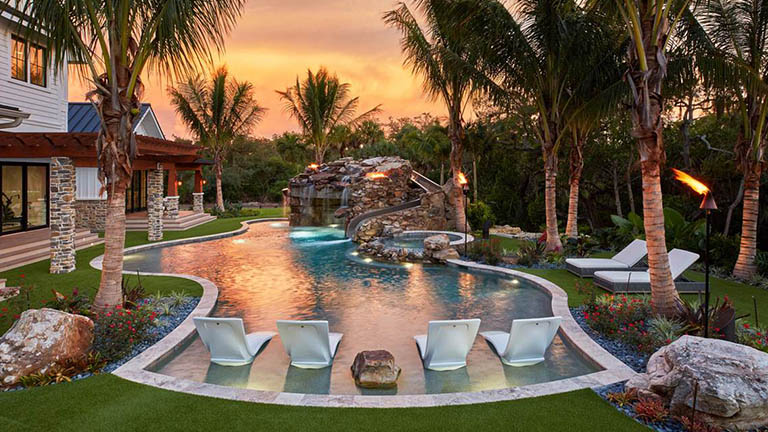 From Design To Diving In… We'll Be With You Every Step Of The Way!
With us, you'll never have to worry about losing your vision or being left out of the process! At the end of the day, the primary focus of our team of Florida pool builders and designers is to make sure YOU are 100% happy. And while our team may make suggestions and offer their professional advice, NO concept or idea will be put into motion without your 100% approval.
Check Out What Previous Customers Are Saying About Lucas Lagoons…

"Phenomenal is one of many words we'd use to describe the final result of our dream turned reality by Lucas. His unique vision was nothing short of spectacular and exceeded all of our expectations. He's a true artist and his palette was our backyard. His construction is top quality and technology is state-of-the-art. After interviewing more than a dozen companies and visiting their job sites, both in-state and out-of-state, Lucas was the ONLY one who actually knew how to PROPERLY construct our dream!!! And Lucas and his team were so easy to work with and accommodating to our needs. I have a strong suspicion this won't be our last Lucas Lagoons creation! Thank you to all!!!"
Dr. & Mrs. Arno Loeffler
"We wanted to let you know how very happy we are with our new lagoon. But just as important as the final outcome, we thought it was important to let you know how impressed we have been with the entire experience of building the lagoon."
Kelley & Renee Johnson
How Did Lucas Lagoons Start?
Having grown up in a family of landscapers and stonemasons, President and CEO Lucas Congdon has had a love for outdoor design since childhood! And after moving to Florida in 1999, this love flourished as Congdon was able to explore his creative side further, relishing in the abundance of plant species and unique limestone rocks.
After winning the prestigious Gold Award in residential pool restorations in 2003, it wasn't long after that Lucas Lagoons was born!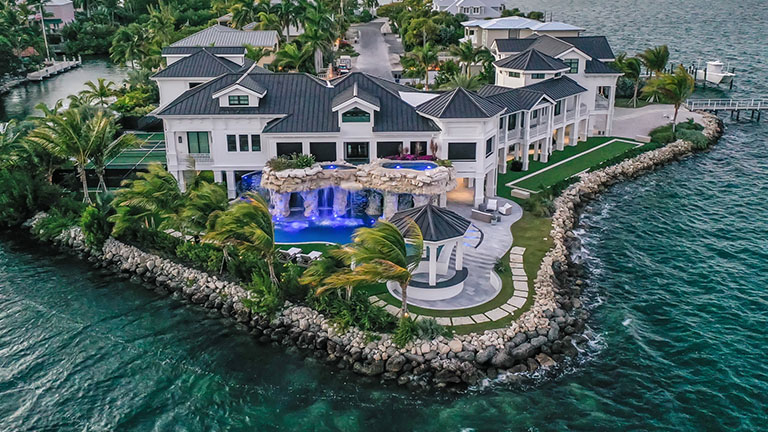 Sarasota County Custom Pool Builder
Are you looking for pool companies near you? We are a pool contractor providing award-winning pool design & construction. As swimming pool builders, we specialize in the design and construction of custom luxury swimming pools, lagoon swimming pools, infinity edge pools, negative edge pools, sand-bottom pools, shipping container pools, spas, modern style pools, swimming pool grottos, swim-up bars, rock waterfall for pools, knife-edge pool, outdoor kitchens, lazy river pools, water slides, pool tiki bar, fire features, lighting, and landscaping. We service all of Sarasota County including Bird Key, Casey Key, Englewood, Laurel, Lido Key, Longboat Key, Nokomis, North Port, Osprey, Sarasota, Siesta Key, Venice.
We also service Central and South Florida including; Pasco County, Hillsborough County, Pinellas County, Manatee County, Sarasota County, Charlotte County, Lee County, Collier County, Miami-Dade County, Broward County, Palm Beach County, Martin County, St. Lucie County, Indian River County, Brevard County, Orange County, Osceola County, Polk County and cities of Sarasota, Bradenton, Tampa, St Petersburg, Clearwater, Largo, Fort Myers, Cape Coral, Bonita Springs, Naples, Orlando, Port St Lucie, Vero Beach, West Palm Beach, Boca Raton, Pompano Beach, Fort Lauderdale, Hollywood, Miami and the Florida Keys.
With more than 50 design awards and a team of talented pool builders and designers with more than 100 years of experience combined, Lucas Lagoons is setting the bar high with their unique luxury pools and natural rock lagoons that have captured not only Florida but the world!
So, Are YOU Ready To Discover The Backyard Magic Lucas Lagoons Can Create For You?