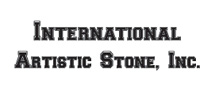 Tell us about yourselves and business:
International Artistic Stone, Inc was started in 2000 by Robert and Irini Krolikiewicz
What do you specialize in?
We specialize in custom cubic elements made from natural stone, what differentiates International Artistic Stone is it staffs extensive experience in natural stone allowing us to direct our customers to the correct product for the given job as well as in house artists for creating the right design.
How long have you been in business?
We've been in business for over 15 years, since 2000
What areas do you service?
Fabrication and installation projects thru out Florida and ship custom elements to any location.
Do you have any key projects going on right now?
Custom Limestone and Coral Fireplaces all of which have custom designs carved to fit style of project. Stone Column and Capital reproductions to match an existing home built in the early 1900's. Limestone twist and bend staircases. Exterior Custom Coral elements, each piece is custom designed and carved to fit style of the house.
Is there something unique about business?
We are a family business with staff that cover a full range of capabilities from CNC and Waterjet pieces to hand carved detailed elements. What we enjoy is doing projects that other companies cannot or will not do.