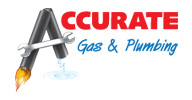 Tell us about yourselves and business:
We are a husband and wife team, Keith and Linda Remer. Keith has been in the Plumbing/Gas business for 25+ years both in New York and in Florida. Linda has been on the business side and run operations for numerous companies for 35+ years. Together we felt we had the ability and expertise to run a business. In July 2011, we decided to start Accurate Gas and Plumbing LLC.
We are locally owned and operated at our office in North Port, Florida. Accurate Gas & Plumbing has a team family of 7+ employees and we are always looking for key people. We started this business to be able to join the cause of " Changing Peoples Lives". We welcome our employees into our home, and encourage them to help make this company theirs.
We believe in giving back to our community. On a few occasions a year we look to those less fortunate with in our community and have installed water heaters, or repaired some leaking items free of charge.
We support the Charlotte County Homeless Coalition and the Boys and Girls Club. We raise awareness through out each year for the American Heart, American Lung and a few different Breast Cancer causes.
We support the Animal Welfare league and German Shepherd Rescue of Southwest Fl. Our animal family consists of 3 German Shepherds Sadie, Lexie, and Bentlie, along with 2 Tabby cats Codie and Kylie.
What do you specialize in?
We specialize in all facets of Natural and LP Gas as well as plumbing. We specialize in tank less water heaters, boiler systems, and gas piping systems for both commercial and residential customers.
How long have you been in business?
We opened our company in 2011. We recently opened our new office doors at 1001 Corporate Ave, Suite111, North Port, FL 34289 in November 2015.
What areas do you service?
Our service area is from Naples, FL. to Bradenton, Fl. and all areas in between. On occasion we will look at jobs with in the state of Florida if need be.
Do you have any key projects going on right now?
We always have key projects going on with our commercial builders, assisted living facilities, hotels, and numerous restaurants.
We truly feel accomplished when we can set a home owners mind at ease during their water heater crisis, and reaffirm to them that they made the right decision in a heater when it comes to their homes.
Is there something unique about business?
We are licensed in both LP and Natural Gas as well as Plumbing. We are a certified Gas Advantage Dealer for TECO Peoples Gas and a representative for Rinnai. We help AmeriGas when they are bottlenecked with service calls. We pride ourselves in only doing what is truly necessary for your services or repairs.