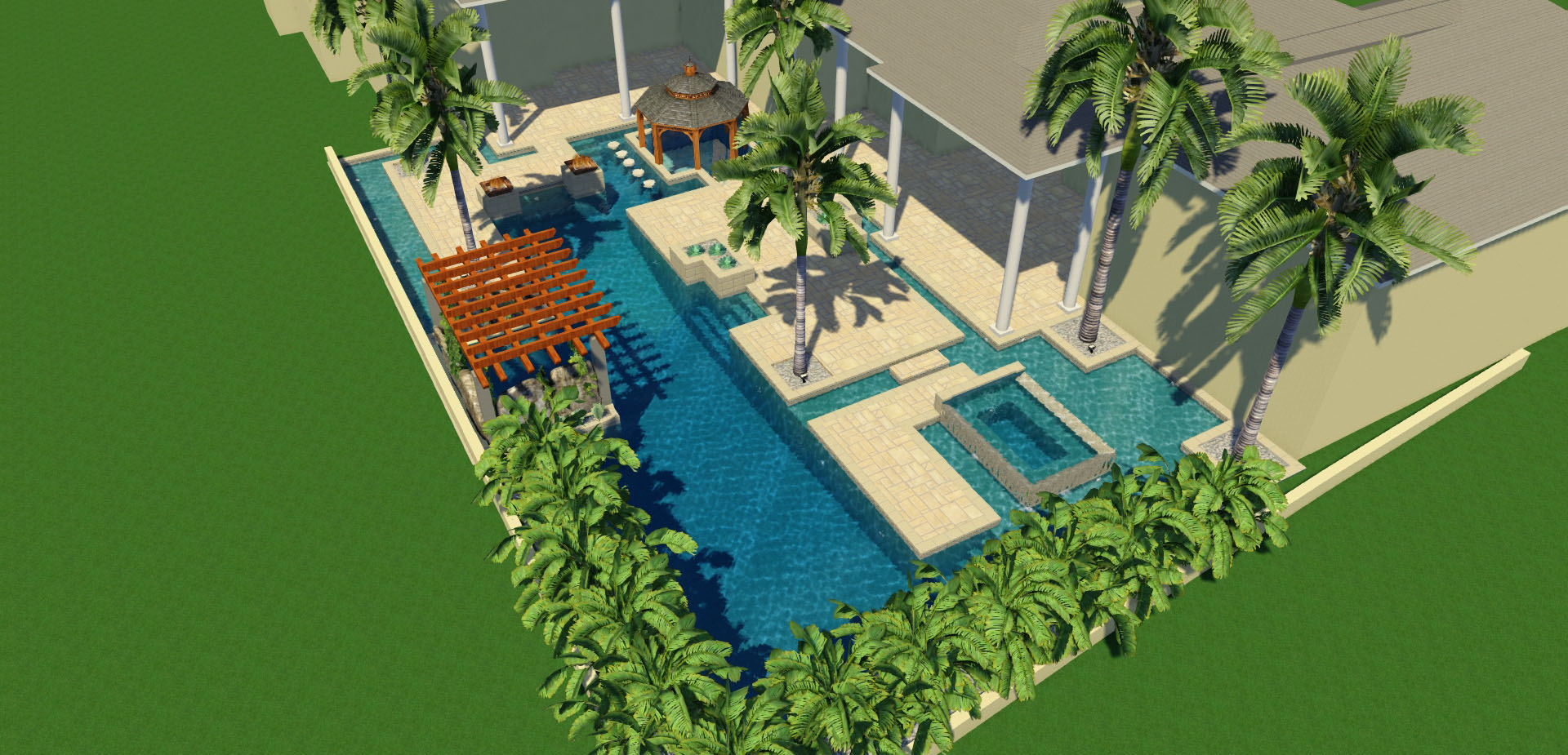 Please note pools within 50 miles of Sarasota, FL require a minimum budget of $350,000. Lucas Lagoons projects beyond 50 miles but within the state of Florida require a minimum budget of $450,000. Pools outside the state of Florida require a minimum budget $750,000. We do offer Design and Consulting services based on size and scope of the project to work with clients all over the country. Custom pools by Lucas Lagoons outside the U.S. are reviewed on an individual basis.
Custom Pools by Lucas Lagoons
Steps for building a custom pool – how to get started with Lucas Lagoons
1. Complete our Project Inquiry Form after reading these Steps and requirements.
Completing and submitting this form adds you to our system and gives us valuable information about your needs and desires. Notated costs in this form are approximations only and are listed to aid you in completing the form. These costs do not reflect a binding contract nor are inclusive of all fees associated with a project.
2. Schedule a Telephone Consultation.
Once we have received your completed Project Inquiry Form, we will contact you within 5 business days to schedule a telephone consultation to clarify any information from the Project Inquiry Form, further identify your needs, and answer any questions you may have. Based on that discussion, you will determine if you would like to proceed to Step 3.
3. Schedule a Personalized, On-site pool Design Consultation with Lucas.
The visit is important for both you and Lucas as it reveals what words and photos cannot. It provides the time necessary to brainstorm each of your ideas, determine the specific elements you would like such as the type of rock and decking, and to share with Lucas any special inspirational items, or themes, from which to design. It determines if what you are requesting is possible based upon the type of site you have, the size of the site, the unusual challenges or hindrances that may exist, the budget range you indicated on the Project Inquiry Form, and so forth. Lucas's assistant will document your design goals and specifics to be incorporated into the design so nothing is overlooked. Lucas will discuss the pool design process with you, then give you a general idea of the project cost. This is not a binding estimate, quote or contract. He will then provide you with a rough, hand-drawn pool design at this meeting, along with the price to produce a full, 3D rendering of this design, to determine if you would like to proceed to Step 4. If so, Lucas will take measurements and photos of the site, along with a check, made payable to Lucas Lagoons, Inc., for the 3D pool design rendering.
Personalized, On-Site pool Design Consultations with Lucas and his assistant are quoted based on location, scope and scale of the project. Personalized, On-Site pool Design Consultation fees with Lucas outside the continental U.S. are determined on a case-by-case basis. A non-refundable payment by check, for the full amount, is needed to schedule the consultation.
To prepare for this meeting, Lucas will need the following items, in advance, sent to his office:
a current site plan/survey of the property
photos of the complete property
photos of your current pool, if any, or the area you would like your new pool
photos or items of inspiration to focus the project towards
4. Prepare a Full, 3D Rendering of the Hand-Drawn Design with Virtual Picture.
This detailed rendering will include the specific elements agreed upon at the on-site pool design consultation with Lucas so you can see your vision come to light. It shows the location of your home, features, amenities, equipment of your custom pool. Once the pool design renderings are completed, they are emailed to you for your review. Should there be any changes, you can either meet with Lucas at his office (at no additional charge) or handle the changes via email/telephone. Prices for custom pool design renderings are based on the scope of the project determined at the Personalized, On-Site Design Consultation. Two (2) revisions to the original hand-drawn plan are included in the price, additional revisions will be charged based on the scope and scale. If a new pool design and rendering is requested it will be quoted as a new project based on the scope and scale regardless of whether you had any revisions to the original design and rendering. Step 4 can take 3-12 weeks to complete depending upon the number of rendering revisions and the scope of the project. Proceed to Step 5.
5. Engineering the Design.
Once a design has been approved for your custom pool by Lucas Lagoons, the next step is to contract for geotechnical engineering of the soil at the pool site, then proceed to engineering the pool design based upon the geotechnical report requirements. We will contact your county and state regarding all zoning laws and requirements to insure these are incorporated into the engineering as well. Once all engineering is complete, we will prepare a comprehensive budget for the custom pool project. This step typically takes about 8 weeks and requires a 5% payment of the projected price, payable by check, as well as, it holds the project's place in the build schedule. Should no contract to build be signed in Step 6, you are refunded the unused portion of this fee. Otherwise, the balance of this fee is applied to the build contract. Are you ready? Proceed to Step 6.
6. Time to Build!
At this point, a contract is prepared and signed by all parties, as well as a Notice to Owner and the Child Safety Act paperwork required by most counties. A deposit of 5% of the total contract price is required at signing, payable by check, which establishes the start date and projections for completion for your custom pool. As that our custom projects vary greatly in size and scope, as well as the county permit lead times, Lucas will give you his best approximation for completion time. Take a look at some of the detailed construction phases of custom pools by Lucas Lagoons!